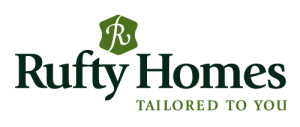 Experience a refined approach to truly custom home building with our friendly team that is devoted to surpassing your family's dreams. This is the Rufty Homes way, and you're assured of a gracious home building experience defined by distinctive beauty, timeless value and pure joy.
Rufty Homes specializes in fine luxury homes nestled in harmony with nature, custom-built with an uncompromising commitment to quality by a team that has worked together for three decades.
Led by Jon Rufty, Rufty Homes is the region's recognized leader, named the top custom home builder by the Triangle Business Journal seven years running. The company set the standard for sustainable custom home building back in 1994 with the state's first HealthyHouse™.
Choose a team with glowing customer references and great relationships with craftsmen, lenders and industry partners. Rufty's long-term stability has resulted in sustained growth and the area's best reputation for professional worksites.
Come home to a residence tailored to fit your family's lifestyle. Meticulously built with integrity and a personal attention to the details you so deserve.
Awards & Accolades
2016 "Top Custom Builder," Triangle Business Journal Residential Real Estate Awards
2015-2008 "Top Custom Home Builder," Triangle Business Journal
2015-2014 "Best Home Building Company," Cary Magazine readers
2016-2014 Best of Houzz Design Award
2014 Best of Houzz Service Award
2012 "Room of the Year," Best in American Living Awards, National Association of Home Builders
Awards & Accolades (Continued)
2012  "Platinum Award, Kitchen Interior Design" Best in American Living Awards, National Association of Home Builders
2012 "The Point," N.C. State Chancellor's Residence
2012 "Top Sustainable Project," Real Estate Awards Triangle Business Journal
2011 Best Green Single Family Project, Triangle Business Journal
2007  N.C. Home Builders Association, Outstanding Achievement Award (2)
2007 Parade of Homes Awards, Gold Awards (2)
2005 Parade of Homes Awards, Best of the Best
2005 Parade of Homes Awards, Gold Award
2004 NAHB Building Systems Council, Excellence in Home Design
1998  Home Builders Association, Building of the Year
1996 Cary Chamber of Commerce, Builder of the Year
1994 North Carolina's first HealthyHouse™ in cooperation with the American Lung Assoc., and National Association of Home Builders Research Center
1994 North Carolina's first EnergyStar home, in cooperation with Carolina Power & Light (now Duke Energy Progress)
Remodelers Council Star Awards
2012  Gold Best Bathroom (2)
2012 Gold Best Exterior Facelift
2012 Gold Whole House Renovation
2011 Gold Best Bathroom (2)
2011 Gold Best Kitchen (2)
2011 Gold Best Room Renovation
2010 Gold Best Exterior Facelift
2010 Gold Best Outdoor Living
2002 Gold Best Outdoor Room
MAME Awards (Major Achievements in Marketing Excellence)
2011 Best Detached Home with Sales Price > $2M
2004 Best Parade Home
2004 Product Design for Single Family Home: Also in 1994 (3), 1996 (2), 1997
1998 Building Company of the Year: Also in 1993, 1994 (2), 1995